Poor indoor air quality (IAQ) means you are breathing in anything from germs to pet dander to mold—or even worse!
Don't let this be your reality.
Most people spend the majority of their day indoors—especially when the temperatures start to heat up here in Arizona. Unfortunately, the air we breathe inside our homes can often exacerbate our allergies, asthma, or other respiratory issues.
Take action to support optimal indoor air quality inside your Chandler home. Don't compromise your health and safety any longer—address your air quality and keep pollutants at bay.
Mason Pro Services is here to help! As your leading heating, ventilation, and air conditioning (HVAC) experts, we specialize in enhancing your comfort, safety, and health. Need help with your plumbing or electrical? You came to the right place!
We are a Lennox Factory Authorized Dealer and Trane Factory Authorized Dealer—two of the most trusted products in the industry. Give us a call for a free consultation about your next home project.
Improve Your Chandler Home With Indoor Air Quality Systems
Below are just some of the many products we offer and can install in your home:
Anti-Microbial Fog Treatment
Eliminate bacteria, viruses, fungi, and other microorganisms in your home with our Anti Microbial Fog Treatment. We use Sporicidin Disinfectant Solution to clean your home and eliminate contaminants. This treatment can be done every six months for best results. It is pet-friendly and safe to apply in your home.
ActivTek Air Scrubber
Invest in your health by adding the ActivTek Air Scrubber to your home. It destroys 99.9 percent of all surface bacteria and viruses, including E. Coli, MRSA Superbug, Staph, Strep, Black mold, Avian Bird Flu H5N8. Finally, you can reduce airborne microorganisms and eliminate strong odors, volatile organic compounds (VOCs), smoke, mold, and germs. The best part? It cleans while you're asleep!
Ultraviolet (UVC) Light
UVC-Lighting is an incredible technology that helps destroy germs inside your home. Install UVC Lighting into your heating and cooling system to eliminate the presence of any lurking germs.
Air Scrubber by Aerus Pictured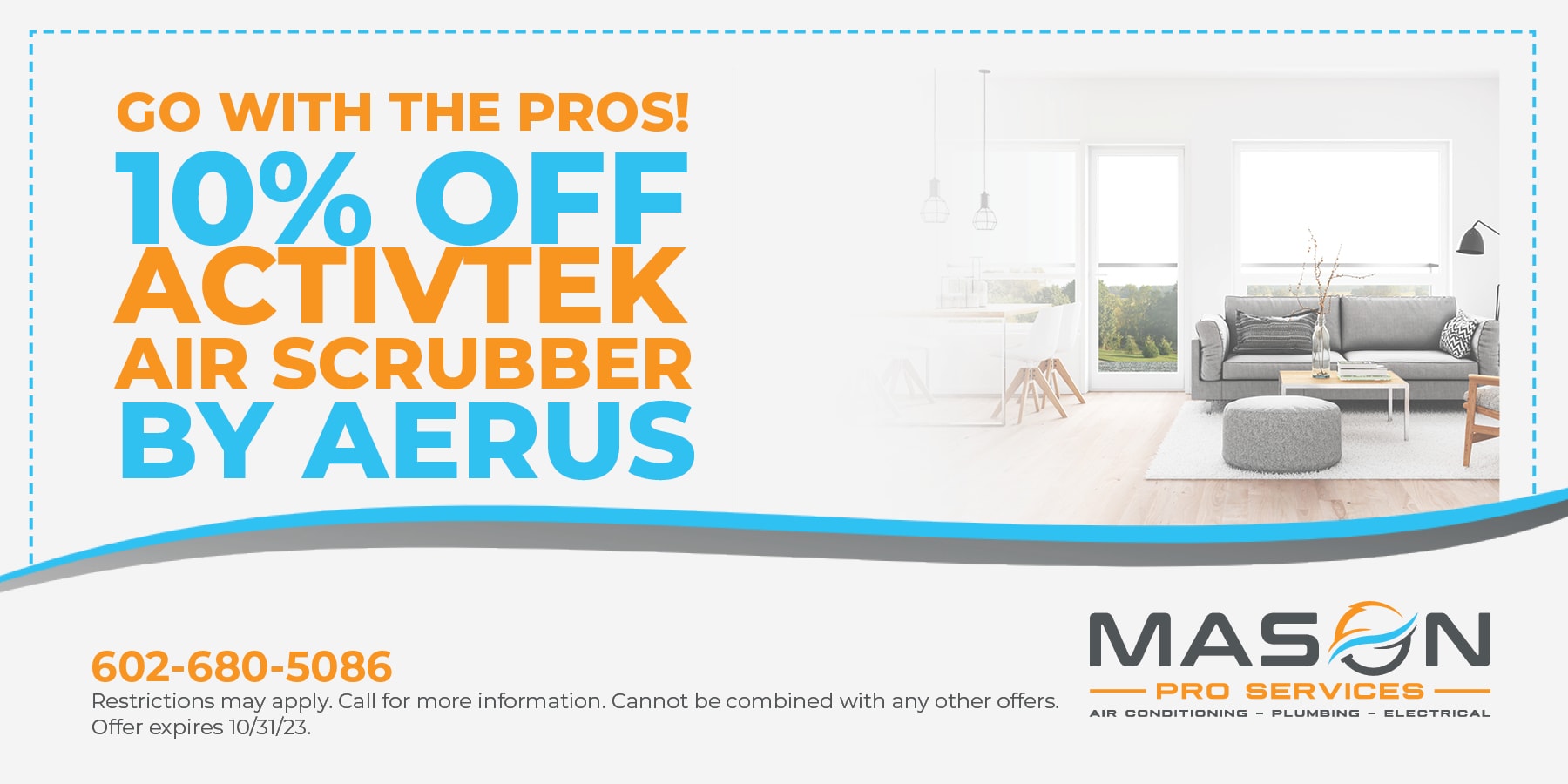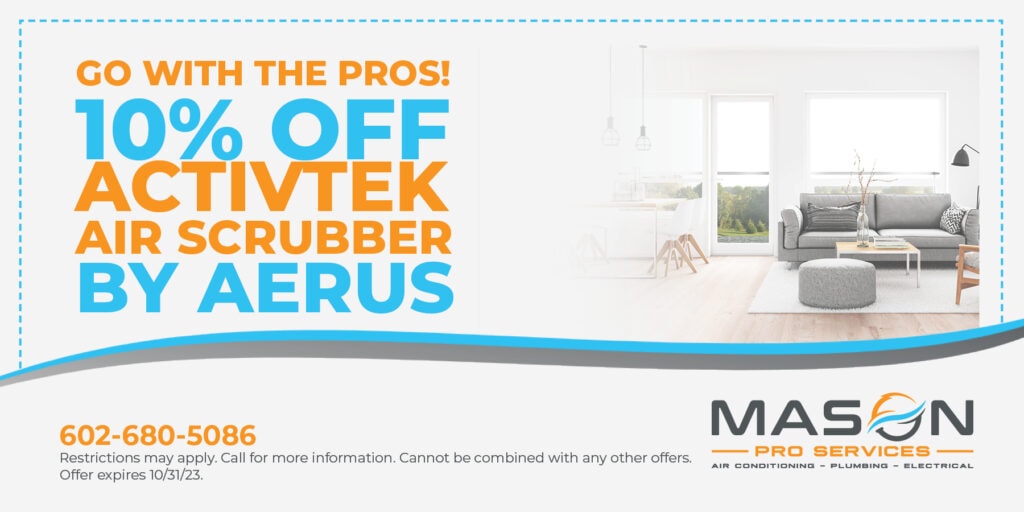 Whole-House Humidifiers and Dehumidifiers
Balance the humidity inside your Chandler home using a whole-house humidifier or dehumidifier. The Mayo Clinic recommends an ideal level of indoor humidity is between 30 and 50 percent.
How Can I Improve My Indoor Air Quality?
Here are a few steps you can take for greater indoor air quality:
Avoid using aerosol sprays in poorly ventilated areas, such as hairspray, perfume, cooking sprays, and cleaning sprays.
Do not smoke inside your home.
Open your windows and doors more often for ventilation.
Keep your home clean by sweeping, vacuuming, dusting, and mopping regularly.
Use exhaust fans in your kitchen and bathrooms as needed.
Install a portable or whole-home air cleaner or indoor air quality product.
Turn to our Mason Pro Services professionals so we can recommend a specific custom-tailored plan to help you achieve all of your indoor air quality goals. We offer a variety of products that support ideal indoor air quality and would be happy to offer our assistance. Give us a call today!
Indoor Air Quality System Installation and Replacement
Our Mason Pro Services professionals can recommend the best air quality products for your home—and we can install them so that you enjoy the best return on your investment.
Already have an indoor air quality product but concerned it isn't working as effectively as it once did? If it's time for a replacement, we can help you get a newer model or try a brand new system.
Don't forget to ask about our financing options that can help you purchase the products you need for better indoor air quality.
Indoor Air Quality System Repairs
If you ever find yourself having a problem with your indoor air quality products, give our experts a call. We can quickly diagnose and resolve the issue.
Are you dealing with an urgent matter? Our team of Mason Pro Services professionals offers 24/7 emergency service. We can be there for you to handle any pressing issue. Call our experts for help, and we will arrive as quickly as possible.
Indoor Air Quality System Maintenance
Maintenance is important for any system in your home. To ensure your indoor air quality remains ideal at all times, you need to develop a maintenance schedule. Well-maintained equipment operates more efficiently and ensures you remain comfortable.
At Mason Pro Services, we offer our Mason Value Plan to help you stay on track with all of your system's maintenance needs. Choose a plan that works for you and receive discounted repair rates, priority scheduling, and more!
Contact Our Indoor Air Quality Experts
Breathe healthier air inside your Chandler, AZ home with the help of Mason Pro Services. Let us create a plan to ensure your home has great indoor air quality every day of the year! Go with the PROS and call us today at (602) 680-5086 or request service online.