Trane XV20i Air Conditioner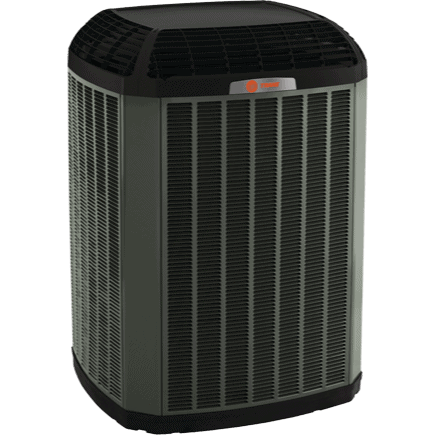 The XV20i TruComfort™ Variable Speed unit is one of the industry's most efficient air conditioners. On the hottest days it cools with precision, keeping you comfortable all day.
Rated up to 22 SEER with 750 stages of comfort for ultimate climate control and max efficiency
TruComfort™ technology automatically adjusts temperature while maintaining speeds to avoid temperature swings
Quiet running fan measured at 4 dB below competitor's minimum
Trane TruComfort™
The Trane TruComfort™ systems give you precise comfort by running at the exact speed needed to keep your home comfortable. This allows the compressor, outdoor fan, and indoor fan to vary operating speed and BTU as the temperature outside changes, slowing down or speeding up gradually in as little as 1/10 of 1% increments to keep comfort within 1/2° of the thermostat setting.
Efficient Performance
The XV20i air conditioner is one of the industry's most efficient systems, with ratings up to 22 SEER. With Trane TruComfort™ technology, the 22-SEER air conditioner automatically adjusts itself while maintaining constant and consistent speeds to avoid temperature swings.
ComfortLink II Communicating Capability
ComfortLink™ II communicating technology (available when matched with communicating indoor units) connects all of your key components so your system automatically configures and calibrates for optimal performance and efficiency through the lifetime of your products.
Durable, Quiet, and Economical
Rigorously tortured and tested for long-lasting durability, this system will hold up to anything, without holding up your bank account. And with the quiet running fan, 4 dB below our competitor's minimum, you are getting a quiet air conditioner and the best all-around system for your home.
Cleaner, Healthier Indoor Air
Add Trane CleanEffects® Whole Home Air Cleaner to your system to filter the incoming air to eliminate dust, pollen, and other irritants for a cleaner, healthier, and more comfortable home.
Specifications
Every Trane matched system is packed with high-quality components. Each helps ensure that time after time, your unit will provide total comfort your family can rely on.
The XV20i air conditioner includes:
ComfortLink™ II Communicating Capability and Unique Refrigerant Cooled Inverter Drive
Climatuff™ Variable Speed Compressor
Compressor Sound Insulator
All-aluminum Spine Fin™ coil
WeatherGuard™ III Top
DuraTuff™ Rustproof Basepan
Integrated Fan System
Simplified Two-Wire Connection
Full-sided Louvered Panels
Powder-Paint Finish
WeatherGuard™ Fasteners
Recognized as the Most Efficient of ENERGY STAR in 2019