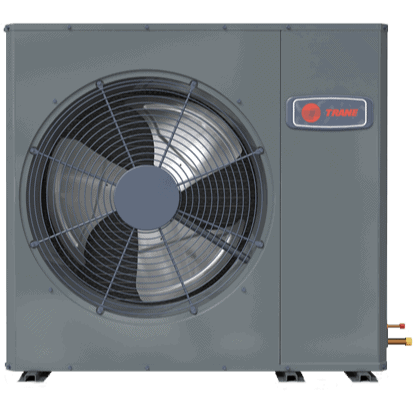 Our quietest and most energy efficient heat pump delivers maximum comfort while keeping noise levels low.
SEER rating up to 19.5 and high efficiency Heating Seasonal Performance Factor of up to 12
Ultra quiet performance with sound levels of 43 to 57 dBA
TruComfort™ variable speed system provides 500-700 comfort stages for maximum efficiency
Quiet performance and small footprint is perfect for cities and space-challenged spaces
Trane Trucomfort™
The Trane TruComfort™ systems give you precise comfort by running at the exact speed needed to keep your home comfortable. This allows the variable speed compressor, outdoor fan, and indoor fan to vary operating speed and BTU as the temperature outside changes, slowing down or speeding up gradually in as little as 1/10 of 1% increments to keep comfort within 1/2° of the thermostat setting.
Efficient Performance
The XV19 Variable Speed Low Profile Heat Pump has a SEER rating up to 19.5 and HSPF up to 12, making it an excellent choice for home comfort and energy-efficiency tax credits. With Trane TruComfort™ technology, the system automatically adjusts itself while maintaining constant and consistent speeds to avoid temperature swings.
Unique Design
Designed with limited space in mind, this unit will meet the needs of difficult-to-install or tight space required homes such as zero lot line, condos, or under decks.
Ultra Quiet Operation
The quietest heat pump in our offering with sound levels of 43 to 57dBA, this unit will meet the low sound requirements some cities have in place for HVAC systems and is ideal for outdoor living spaces, bedrooms, condos, hotels, and restaurants.
Cleaner, Healthier Indoor Air
Add Trane CleanEffects® Whole Home Air Cleaner to your home air conditioning system for advanced air filtration that removes more dust, pollen and other irritants from conditioned air for a cleaner, healthier, more comfortable home.
Maximize Your Comfort With a Hybrid System
Match your heat pump with a gas furnace to enjoy the energy-saving benefits of a hybrid system. Your heat pump is in charge of heating your home. Then, your furnace takes over when the weather gets too cold. Together, they provide you with reliable, energy-efficient comfort all year long.
Specifications
High performance, quiet operation, excellent reliability, and superior energy efficiency – that's what you can expect from the XV family of heat pumps.
The XV19 Variable Speed Low Profile Heat Pump includes:
ComfortLink II controls
Climatuff™ variable speed compressor
Variable speed fan with swept blade design
Refrigerant cooled inverter drive
Integrated diagnostic display panel
Baked-on powder paint finish
Corrosion-resistant Weatherguard™ fasteners
Duratuff™ coil (copper tube aluminum plate fin)
Recognized as the Most Efficient of ENERGY STAR in 2019