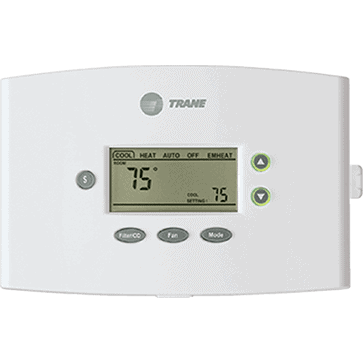 Let a Trane non-programmable thermostat take care of your home's comfort. This basic thermostat allows you to relax and enjoy the day or night any time of the year.
Automatic Benefits
This non-programmable thermostat changes from heating to cooling setting automatically when needed and lets you know when to change your filter.
Memory Capabilities
The XR401 non-programmable thermostat's built-in memory will retain your temperature settings even when power is interrupted.
Specifications
Trane non-programmable thermostats are packed with high-quality components. Each helps ensure that time after time, your unit will provide total comfort your family can rely on.
This non-programmable thermostat includes:
Heat/Off/Cool system switch
Automatic change from heat to cool
Auto/On fan switch
Digital display
Five-minute time delay for compressor protection
Adjustable heating cycle rate
Filter change reminder