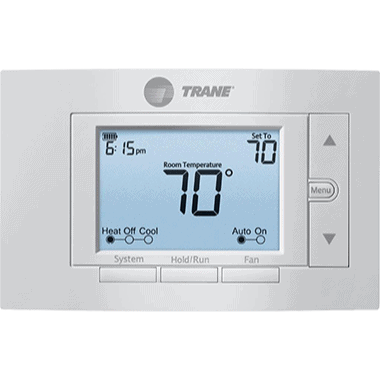 The Trane XR203 Series 7 day or 5-1-1 programmable home thermostat allows you to manage your home's comfort for the week and the weekend. Relax knowing this two-stage thermostat is providing your home reliable heating and cooling year round.
Reliable Operation
This 2-stage thermostat maintains program temporarily when power is interrupted.
Memory Capabilities
With its built-in memory, this programmable home thermostat will permanently retain your temperature settings.
Specifications
Every Trane programmable home thermostat is packed with high-quality components. Each helps ensure that time after time, your unit will provide total comfort your family can rely on.
The XR203 has the following features:
7 day or 5-1-1 simple or easy programming—set different schedules for weekdays and weekends.
Simultaneous display—see the indoor temperature and set temperatures without pushing more buttons.
Plain language—straightforward, with no symbols.
Easy battery access—makes changing the battery a simple task.
Soft key controls—easy to understand and manage.
4 stage heat / 2 stage cool.