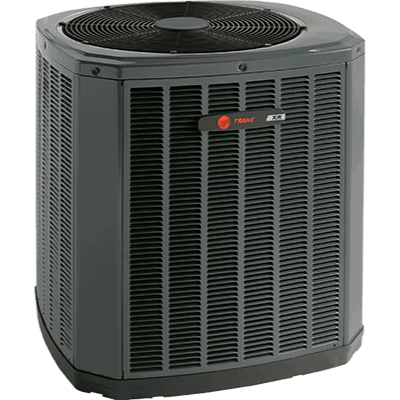 Get affordable heating and cooling with the durability you expect from Trane. The XR14 electric heat pump offers up to a 14 SEER rating on a matched air handler or furnace system.
Efficient Performance
The XR14's electric heat pump's SEER rating of up to 14.00 and HSPF of up to 8.20 make it an energy-efficient choice for home comfort.
Durable Construction
Materials for all components are tested again and again for long-lasting performance and reliability.
Cleaner, Healthier Indoor Air
Add Trane CleanEffects® Whole Home Air Cleaner to your system for advanced air filtration that removes more dust, pollen and other irritants from conditioned air for a cleaner, healthier, more comfortable home.
Maximize Your Comfort With a Hybrid System
Match your heat pump with a gas furnace to enjoy the energy-saving benefits of a hybrid system. Your heat pump is in charge of heating your home. Then, your furnace takes over when the weather gets too cold. Together, they provide you with reliable, energy-efficient comfort all year long.
Specifications
Every Trane Heat Pump is packed with high-quality components. Each helps ensure that time after time, your unit will provide total comfort your family can rely on.
The XR14 electric heat pump includes:
Climatuff™ compressors
Galvanized-steel louvered panels
Baked-on powder paint
Spine Fin™ outdoor coil