Trane XR14 Air Conditioner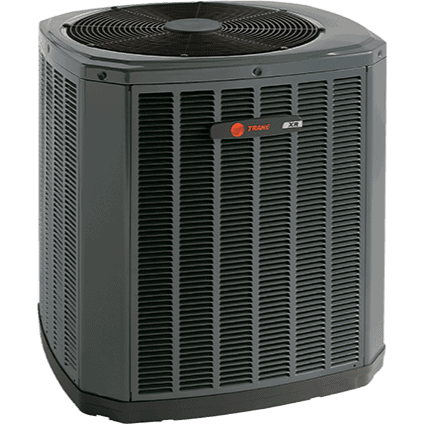 A smart solution to your home cooling needs, the XR14 is an excellent blend of efficiency and value.
SEER rating of up to 16 cools your home and can lower cooling costs even on the hottest days
Tested materials and components for dependable performance
Fully compatible with Trane CleanEffects® Whole Home Air Cleaner advanced whole home air cleaner
Efficient Performance
The XR14 A/C system has a SEER rating of up to 16.00, making it an excellent choice for home comfort and for earning energy-efficiency tax credits.
Economical Operation
The increased energy efficiency of this air conditioning system may substantially lower your home cooling costs.
Durable Construction
Materials for all components in this central A/C unit are tested again and again for long-lasting performance and reliability.
Cleaner, Healthier Indoor Air
Add Trane CleanEffects® Whole Home Air Cleaner to your air conditioning system for advanced air filtration that removes more dust, pollen and other irritants from conditioned air for a cleaner, healthier, more comfortable home.
Specifications
Every Trane central A/C unit is packed with high-quality components. Each helps ensure that time after time, your unit will provide total comfort your family can rely on.
The XR14 includes:
Climatuff™ compressor
Spine Fin™ outdoor coil
Upgraded fan motor
Full-side louvered panels protect your investment
Corrosion-resistant Weatherguard™ fasteners
Unique DuraTuff™ non-corrosive base pan
Quick-Sess cabinet with full coil protection