Trane XL18i Air Conditioner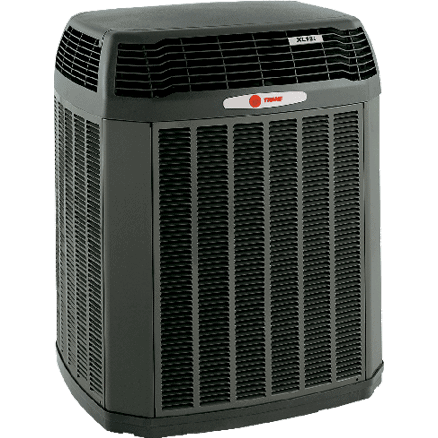 Working as part of your home's HVAC system, the XL18i central air conditioner unit offers two-stage cooling. This unit's design features our WeatherGuard™ II and the all-aluminum Spine Fin outdoor coil, making it a durable and efficient choice for your home.
Efficient Performance
Trane's XL18i central air conditioner units have Seasonal Energy Efficiency Ratings (SEER) up to 18.00 making the systems an energy-efficient choice for home comfort.
Two-Stage Cooling
Two stages of cooling meet any outdoor climate conditions and reduce interior temperature swings.
Durable and Economical
Trane's central A/C units come with increased efficiency that may substantially lower your home cooling costs. Materials for all components are tested again and again for long-lasting performance and durability.
Cleaner, Healthier Indoor Air
For a more comfortable home, add Trane CleanEffects® Whole Home Air Cleaner to your air conditioner unit for advanced air filtration that removes dust, pollen and other irritants from conditioned air.
Specifications
Every Trane air conditioner is packed with high-quality components. Each helps ensure that time after time, your unit will provide total comfort your family can rely on.
The XL18i includes:
Durable Climatuff™ compressor
Full-side louvered panels
WeatherGuard™ II top
Baked-on powder paint
Corrosion-resistant Weatherguard™ fasteners
All-aluminum Spine Fin™ outdoor coil
DuraTuff™ non-corrosive base pan
Unique mounting of shaft down fan motor
Variable-speed fan motor
Quick-Sess cabinet with full coil protection
Low sound with advanced fan system and sound insulators on compressors (on select models)