Trane XL16c Packaged Heat Pump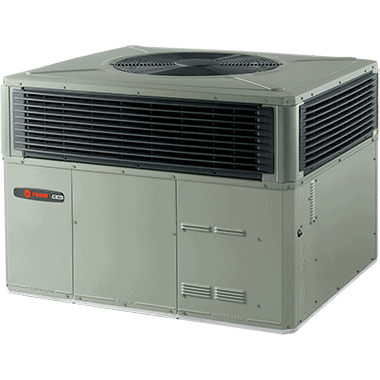 The XL16c is a high-efficiency, all-electric heat pump, maximizing your comfort whatever the season, year after year. The packaged heating and air conditioning system is all contained in one sleek cabinet for optimal use in any home.
Efficient Performance
The Trane XL16c packaged heat pump units offer up to 16.00 SEER and 8.50 HSPF and is ENERGY STAR qualified.
Year-Round Durability
Exclusive components like a two-stage Climatuff™ compressor, the all-aluminum Spine Fin™ coil, Weather Beater™ top, and the variable-speed Vortica™ blower motor with Comfort R™ will deliver the sustained performance you expect year after year from packaged heating and air conditioning systems.
Quiet Operation
The ultra-quiet operation of this all-electric heat pump delivers comfort without disrupting your home environment.
Cleaner Air
Compatible with Trane CleanEffects® Whole Home Air Cleaner. The first whole home air cleaning system to earn theasthma & allergy friendly® Certification Program mark by the Asthma and Allergy Foundation of America.
Specifications
Every Trane Packaged Unit is designed with high-quality components. Each helps ensure that time after time, your unit will provide total comfort your family can rely on.
The XL16c packaged heat pump units include:
Two-stage Climatuff™ compressor
State-of-the-art fan system
Variable-speed Vortica™ blower motor
Ultra-quiet operation
Heavy gauge, two-tone powder-painted cabinet
Increased dehumidification with Comfort-R™
Advance airflow system for quiet and efficient outdoor operation
Functional louvers with rounded corner guards for added safety
All-aluminum Spine Fin™ coil
Durable Weather-Beater™ top
Compatible with Trane CleanEffects® Whole Home Air Cleaner whole home air cleaner