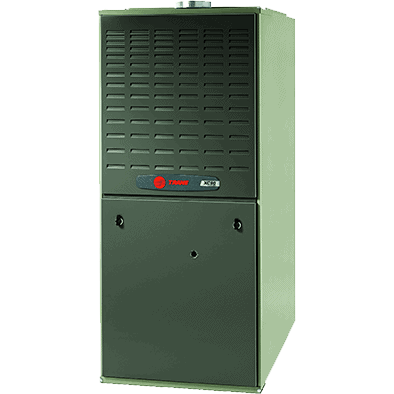 Communicating technology for the ultimate comfort and greater efficiency. The advanced ComfortLink™ II allows the XC80 to constantly configure itself for optimal performance year after year.
Efficient Performance
The XC80 two-stage furnace is rated with up to 80% AFUE.
Comfortlink™ II Communicating Capability
ComfortLink™ II communicating technology connects all of your key components so your system automatically charges, configures and calibrates for optimal performance through the lifetime of your products.
Comfortable, Even Heating
Variable-speed fan motor adjusts speed to provide a consistent flow of warm, comfortable air with quiet operation.
Cleaner, Healthier Indoor Air
Add Trane CleanEffects® Whole Home Air Cleaner to your system for advanced air filtration that removes more dust, pollen and other irritants from conditioned air for a cleaner, healthier, more comfortable home.
Get the Best of Both Worlds With a Hybrid System
Pair your gas furnace with a heat pump to enjoy the benefits of a hybrid system. Your heat pump primarily heats your home and your furnace steps in when the weather gets too cold. Together, they offer you reliable comfort that could lower your energy costs.
Specifications
Every Trane gas forced air furnace is packed with high-quality components. Each helps ensure that time after time, your unit will provide total comfort your family can rely on.
The XC80 two-stage furnace includes:
ComfortLink™ II communicating capability
Communicating user interface
Variable-speed blower motor
Two-stage gas heat
Heavy gauge, two-tone powder-painted cabinet
Increased dehumidification with Comfort-R™
Durable silicon nitride hot surface igniter
Multi-port, in-shot burners
One-piece aluminized steel heat exchanger with no welds
24-volt fuse to protect controls
Insulated cabinet for quiet operation
Convertible to horizontal, left or right
Compatible with ERV, humidifier and air cleaner