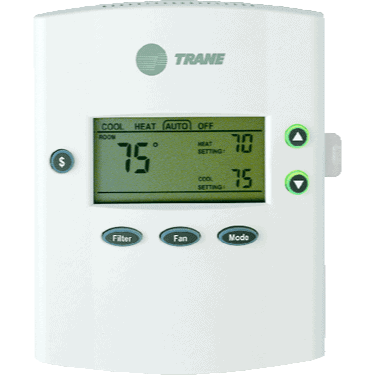 Let a Trane basic-digital thermostat take care of your home's comfort. This easy-to-use and easy-to-install basic home thermostat allows you to relax and enjoy the day or night anytime of the year.
Automatic Benefits
This residential home thermostat changes from heating to cooling setting automatically when needed and lets you know when to change your filter.
Memory Capabilities
Our basic-digital thermostat will retain your temperature settings even when power is interrupted.
Specifications
Every Trane residential thermostat is packed with high-quality components. Each helps ensure that time after time, your basic-digital thermostat will provide total comfort your family can rely on.
The XB200 Thermostat includes:
Heat/Off/Cool system switch
Auto/On fan switch
Manual changeover
Large digital backlit display
Five-minute time delay for compressor protection
Adjustable heating cycle rate
Single-stage heat, single-stage cool
Key lock
Business card drawer