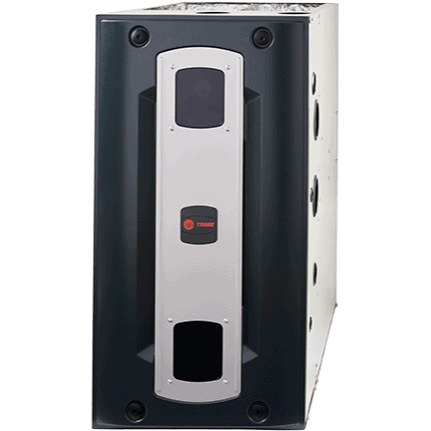 The new S9X2 furnace offers two stages of gas heat for comfort in cold weather, and a CTM blower for maximum efficiency in warm weather, while maintaining the quality and reliability that Trane is known for.
Fuel Efficient Design
The S9X2 is rated at 96% gas efficiency (AFUE), and the Vortica™ II blower is one of the most efficient in the industry, providing energy savings in both winter AND summer.
Comfortable, Even Heating
With stainless steel primary and secondary heat exchangers, and the ultra-efficient Vortica™ II variable speed blower, you can count on a consistent flow of warm, comfortable air with quiet operation.
Get the Best of Both Worlds With a Hybrid System
Pair your gas furnace with a heat pump to enjoy the benefits of a hybrid system. Your heat pump primarily heats your home and your furnace steps in when the weather gets too cold. Together, they offer you reliable comfort that could lower your energy costs.
Specifications
Every Trane furnace is packed with high-quality components. Each helps ensure that time after time, your unit will provide total comfort your family can rely on.
The S9X2 includes:
Re-designed cabinet platform to fit in tighter spaces
CTM blower motor
Heavy gauge, two-tone powder-painted cabinet
Stainless steel primary and secondary heat exchanger
Insulated cabinet for qui3et operation
2 stage gas heat – more comfort, quieter operation, less temperature swing
ECM Constant Torque, high-efficiency motor – electrically efficient
Stainless steel primary and secondary heat exchangers – reliable / durable
Three-way poise (U, HL, HR) plus dedicated DF – getting the right model is easier
24v IFC – compatible with most thermostats
Matches with single stage or 2 stage AC or HP – more system design flexibility
34" height – easy to fit in tight places or with larger coils
Easy to install and service – dealer friendly design
Certified 1% airtight – meets the most stringent building codes
ENERGY STAR certified – validated to be efficient