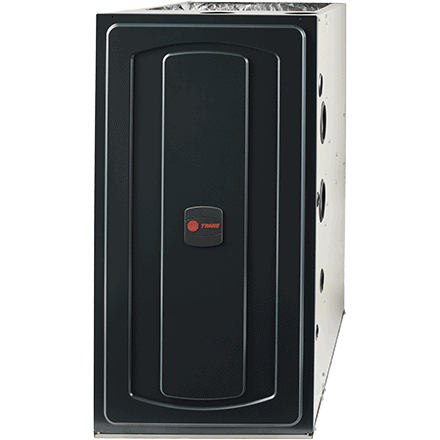 Our most affordable high energy efficient furnace keeps your home and budget comfortable.
High-efficiency rating of up to 96% Annual Fuel Utilization Efficiency (AFUE)
Tested materials and components for dependable performance
Efficient Performance
The S9X1 family features up to 96% AFUE and is packed with energy-saving features such as a high efficiency ECM (Electronically Commutated Motor) blower motor. These high efficiency features help lower monthly energy bills, helping you save money over the lifetime of your furnace.
Comfortable, Even Heating
High-efficiency, Constant Torque ECM blower motor provides a consistent flow of warm, comfortable air, while operating quietly and efficiently.
Durable Construction
All S9X1 materials are tested repeatedly for long-lasting performance and reliability.
Cleaner, Healthier Indoor Air
Add Trane CleanEffects™ to your system for advanced air filtration that removes more dust, pollen and other irritants from conditioned air for a cleaner, healthier, more comfortable home.
Get the Best of Both Worlds With a Hybrid System
Pair your gas furnace with a heat pump to enjoy the benefits of a hybrid system. Your heat pump primarily heats your home and your furnace steps in when the weather gets too cold. Together, they offer you reliable comfort that could lower your energy costs.
Specifications
Every Trane furnace is packed with high-quality components. Each helps ensure that time after time, your unit will provide total comfort your family can rely on.
The S9X1 single-stage gas furnace includes:
High-efficiency constant torque ECM blower motor
Self-diagnostic integrated furnace control board (IFC)
Matches with single- and two-stage AC and HP for more system options
Durable silicon nitride hot surface igniter
Sealed combustion, 100% outside air option
Multi-port, in-shot burners
Tubular, stainless steel primary heat exchanger
Patented Vortica™ II blower design
Pre-painted galvanized steel cabinet
Fully insulated for quiet operation