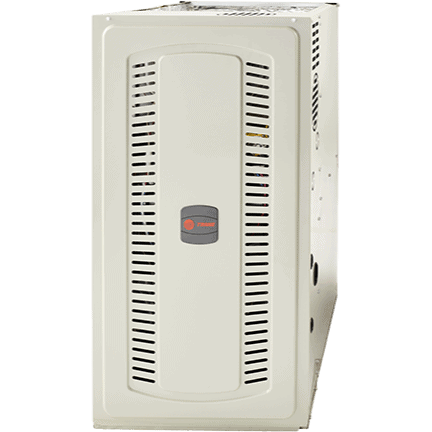 The single-stage S8B1 heating furnace is designed to help meet your family's needs, year after year. Because a Trane S8B1 furnace is built to last, your family gets the benefits, consistently.
Efficient Performance
The S8B1 furnace is rated up to 80% AFUE and features our patented, more durable Vortica™ II blower design.
Durable Construction
Materials for all components are tested again and again for long-lasting performance and reliability.
Cleaner, Healthier Indoor Air
Add Trane CleanEffects™ to your system for advanced air filtration that removes more dust, pollen and other irritants from conditioned air for a cleaner, healthier, more comfortable home.
Get the Best of Both Worlds With a Hybrid System
Pair your gas furnace with a heat pump to enjoy the benefits of a hybrid system. Your heat pump primarily heats your home and your furnace steps in when the weather gets too cold. Together, they offer you reliable comfort that could lower your energy costs.
Specifications
The S8B1 single stage furnace is packed with high-quality components. Each helps ensure that time after time, your unit will provide total comfort your family can rely on.
The S8B1 furnace includes:
Silicon nitride igniter
Multi-port, in-shot burners
Pre-painted galvanized steel cabinet
Tubular, steel heat exchanger
Patented Vortica™ II blower design