Trane Konnect Series Ducted Air Handler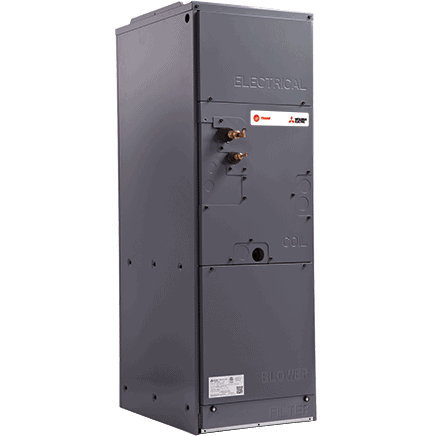 This air handler is ideal for both system replacement and efficient cooling and heating in ducted applications.
Inverter-Driven Compressors
Maximizes energy savings by using only the energy needed to perfectly cool or heat an area.
Easy Installation
Installs quickly and easily, without the need for major construction and remodeling.
Complete Zone Control
Realizes maximum control and energy efficiency by cooling and heating only those spaces in use.
Personal Comfort Control
Complete comfort control of temperature, fan speed, and air direction in each room or zone via kumo cloud® or other smart home devices.
Cleaner Air With Washable Anti-Allergen Filters
Improves air quality and saves money.
Hyper-Heating Inverter® (H2i®) Heat Pumps
Provides instant warmth even in extreme climates (down to -13° F).
Ultimate Energy Efficiency
With higher SEER.
Specifications
Available capacities in kBtu: 12, 18
Up to 17 SEER
Upflow, horizontal left, horizontal right configurations
Optional electric heat kits
Condensation overflow switch connection
Humidifier and ERV interface connections
Auxiliary heat control connections