Trane Energy Recovery Ventilator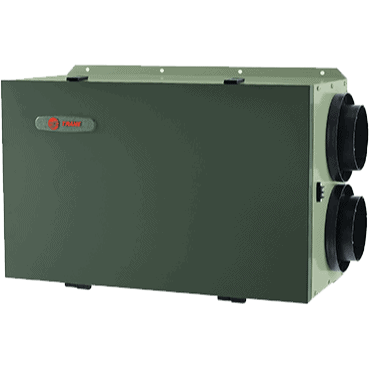 Trane Energy Recovery Ventilator provides a whole-house solution for fresh air ventilation. Trane Energy Recovery Ventilator exhausts stale indoor air and brings in fresh, preconditioned, outdoor air, so your home can be a cleaner, more enjoyable place to live. This ventilator also decreases the level of odors, chemical vapors and naturally occurring gases that become trapped in tightly sealed homes. Plus, with its quiet operation and durable components, you can count on fresh air from Trane Energy Recovery Ventilator for years to come.
Cleaner, Healthier Indoor Air
This home ventilator removes stale indoor air for an equal amount of fresher outdoor air.
Increased Comfort
The Energy Recovery Ventilator retains heat and moisture from exchanged air in winter, but pre-conditions and dehumidifies incoming air in summer—so your home is more comfortable year-round.
Energy Efficient
Transfers energy from the air being exhausted from inside to the air being drawn in from outside, making for a more energy-efficient home.
Easy to Use
Adjustable control provides 24/7 automatic ventilation
Durable Construction
Our home ventilator cabinets are powder-coated, and all component materials are rigorously tested for long-lasting performance and durability.
Specifications
Every Trane Energy Recovery Ventilator is packed with high-quality components. Each helps ensure that you can count on Trane Energy Recovery Ventilator to deliver fresh air, time after time. Today's homes are better insulated and tightly sealed to save energy. This prevents a number of home odors (cooking smells, pet odors, paint or new carpet fumes) from escaping. Trane Energy Recovery Ventilator helps these fumes and odors to dissipate by bringing fresher outdoor air into your home.
Static plate energy transfer core means efficient transfer of heat and moisture
High performance, permanently lubricated ball-bearing motor
Slide-out filter for easy cleaning
Percent timer control
Passive defrost-condensate drain not required
Multi-position mounting
Heavy gauge, powder-painted steel cabinet
Closed cell foam gasketing for insulation integrity