Trane ComfortLink™ II XL850 Thermostat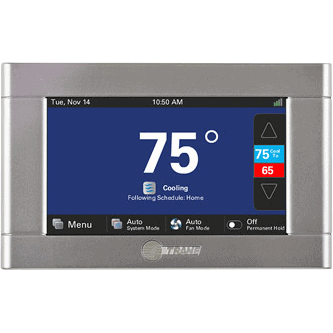 Trane ComfortLink™ II XL850 Communicating Control with built-in bridge for Z-Wave devices combines communicating system technology and a home automation hub to remotely control your home, comfort, and energy use. It's easily accessible from a smartphone, tablet or computer, which makes adjusting the temperature for your family's comfort a breeze.
Comfort
The ComfortLink™ II XL850 combined with Trane's TruComfort Variable Speed System works with a network of controls and sensors to optimize the temperature and humidity by adjusting compressor and fan speeds in real time to give you the most comfortable air conditions as efficiently as possible.
Connectivity and Control
Connect and control your thermostat from a smartphone, tablet and computer*. With the XL850's built in bridge for Z-Wave devices, you have the flexibility to remotely monitor and control over 200 smart home devices. From fan switches to air quality monitors, you can monitor them from virtually anywhere with the Trane Home app or with the convenience of your voice through an Amazon Alexa or Google Home enabled device.**
Real Time Diagnostics
Using Trane Diagnostics, the system monitors your HVAC system in real time and alerts your Trane dealer if there is a potential issue. With your permission, real time information is easily accessible for your dealer so they can remotely view details on how your heating and air conditioning system is performing.
Key Features
Wi-Fi or Ethernet Connectivity
4.3″ Diagonal Color Touchscreen
Built-in Bridge for Z-Wave Devices
Program up to 4 schedules a day, 7 days a week
5 heat/ 2 Cool
Zoning Capability: No
* Requires internet service and a Trane Home account.
** Trane Home remote climate access is included with the purchase of a smart thermostat. Adding smart home devices to your Trane Home account may require a monthly subscription. Ask your Trane Dealer for details.