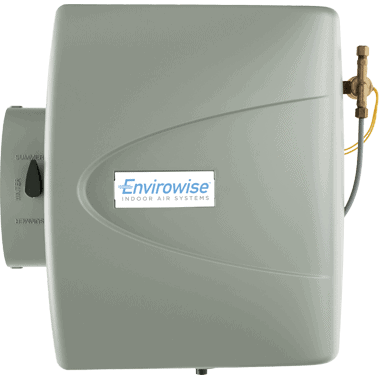 Temperature is just one factor in total home comfort, especially in dry weather. An Envirowise humidifier provides the right amount of moisture in every room, and can help alleviate allergy symptoms. The EHUMD comes in two models: the EHUMD200 and the Bypass Filter. The EHUMD200 has a capacity of 12 gallons per day, while the Bypass Filter has a capacity of 16.8 gallons per day.
Moisturizing Air
Envirowise's trusted home humidifiers can adjust from summer to winter in order to provide the right amount of moisture to the air in your home. It's not just comfort—it's relief for your skin.
Dry Home Protection
Having a dry home can be damaging to valuable things such as furniture, paintings and woodwork. By adding a Envirowise furnace humidifier to your home's HVAC system, you can help ensure it won't dry out and crack.
Better, Cleaner Air
When paired with Trane CleanEffects® Whole Home Air Cleaner technology, an Envirowise central humidifier will not only alleviate the dryness but also give you the most advanced whole-house air filtration system. So you get clean, comfortable air that feels good all year long.
Specifications
Envirowise whole home humidifiers are designed with high-quality components. Each helps ensure that time after time, your HVAC humidifier will provide total comfort your family can rely on.
The Bypass Filter includes:
Large bypass
Automatic control
Ability to work with all furnace models
Capacity for up to 4,000 square feet
Output up to 17 gallons per day
Eliminates need for portable appliances