Water Filtration and Softeners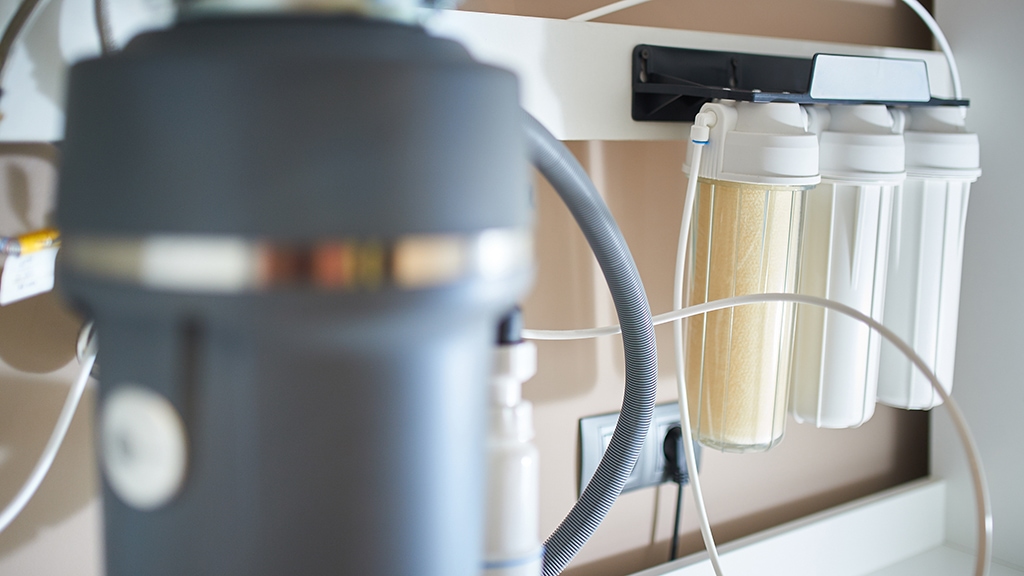 If you were to test the water quality in your Chandler home right now, you might be surprised by the results.
Potentially dangerous contaminants—like arsenic, chlorate, chromium, haloacetic acids, nitrate, and radon—have been detected in our Arizona water supply, according to the Environmental Working Group. These contaminants are known to cause cancer, heart disease, blood chemistry changes, and problems with the reproductive system like infertility.
Ensuring you have safe and clean water for drinking, cooking, and bathing boils down to having an efficient water filtration system for your home.
At Mason Pro Services, your safety is our top priority. We offer an array of home services to support an ideal environment, all the way from heating and cooling to electrical and plumbing. Our goal is to create healthy homes and happy customers.
Whether you need water filtration and softener installation, replacement, repair, or maintenance services, our qualified and experienced professionals are happy to lend a helping hand.
How Can I Improve the Water Quality in My Chandler Home?
Take action against the concerning amount of pollutants that are negatively impacting your home's water quality:
Test your water to discover what contaminants you need to reduce or eliminate.
Install a whole-home water filtration system.
Dispose of hazardous waste and chemicals properly.
Keep up with routine plumbing maintenance.
Repair and replace pipes when necessary, especially outdated pipes and pipes containing chemicals like lead.
Drain your water heater once a year to prevent the buildup of sediment, bacteria, and metals.
Use non-toxic cleaning supplies and personal care items to reduce the number of chemicals going down the drain.
If you have a septic tank, schedule maintenance and have it inspected and pumped as needed.
Filtering out the contaminants with a water filter, especially in the water you will be drinking, cooking, or bathing with, is essential. Otherwise, you risk compromising your health.
Benefits of Whole-Home Water Filtration Systems
Whole-home water filtration systems offer many great benefits:
Filters out potentially harmful contaminants.
Provides cleaner, safer water for drinking, cooking, and bathing.
Offers an environmentally alternative to drinking from plastic water bottles.
Reduces scale and mineral deposits known for building up in your plumbing pipes.
Improves the taste of water.
What Is Reverse Osmosis?
Reverse osmosis is a popular and effective water filtration method. This type of system can remove many pollutants that other types of water filters cannot, such as lead, pesticides, fluoride, and arsenic.
A reverse osmosis system involves water going through a semi-permeable membrane so any impurities can be caught and removed.
Risks of Contaminated and Hard Water
Some of the main concerns of drinking contaminated water include:
Health problems from high levels of minerals and contaminants
Exposure to viruses and bacteria
Damage to your plumbing pipes and fixtures
Foul smell and poor taste of water
Water Softeners
When you have high levels of minerals, like calcium and magnesium, in your water, it is considered hard water. This can cause damage to your plumbing fixtures, pipes, water heater, and other household appliances.
To counteract the negative effects of hard water, consider a water softener. Water softeners remove minerals from the water, making it safer to drink and use.
Whole-Home Water Filtration and Water Softener Installation and Replacement
Are you ready to install a whole-home water filtration system? Leave it to Mason Pro Services. Our licensed specialists understand water filtration systems and water softeners and can recommend the best solution to ensure your water quality is ideal.
If you already have a water filtration system, but it isn't as effective anymore, our professionals can discuss your options and help you find the right replacement.
Don't forget to ask about financing options designed to fit your budget and needs. We want you to receive the exact products your home needs without going over budget. Talk with our professionals today to learn more.
Whole-Home Water Filtration and Water Softener Repairs
Is there a problem with your water filtration system? Our Mason Pro Services professionals can assess your water filtration system and come up with a plan to correct the issue.
In some cases, a replacement or upgrade may be necessary. No matter what, we will leave you with a fully operational and efficient water filtration system so that you don't have to worry about poor water quality anymore.
Whole-Home Water Filtration and Water Softener Maintenance
Preventative maintenance is the best way to keep all of the systems in your Chandler home operating properly. Your water filtration system is no different.
Our Mason Value Plan addresses plumbing, electrical, heating, and cooling service. Turn to our experts for all your maintenance needs.
Turn to Our Experts for All Your Water Filtration Needs
Protect yourself and your loved ones by installing a water filtration and softener inside your Chandler, AZ home. You can count on our Mason Pro Services professionals to help take care of your home. Go with the PROS and call us today at (602) 680-5086 or request service online.
Need Water Filtration and Softener Service?
Go with the PROS at Mason Pro Services.