Trane TMM Series Air Handler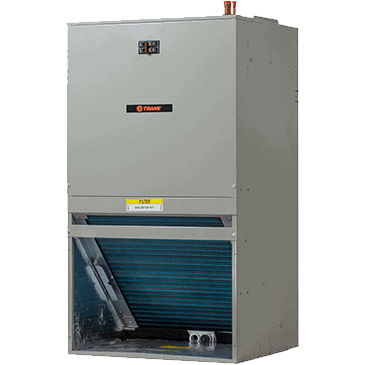 For small area applications, this affordable air handler meets or exceeds all standard efficiency requirements.
Reliability
The all-aluminum coil found in the TMM Series of residential air handlers is exponentially more durable than standard copper coils, which are susceptible to formicary corrosion. These all-aluminum coils ensure families stay comfortable indoors all year long, no matter what the weather outside.
Rust Prevention
Trane residential air handlers come with a no-rust polymer drain pan along with galvanized cabinet features to keep things running and looking good for a long time.
Smaller Unit for Tighter Applications
The TMM Series is designed to fit smaller spaces being mounted on studs or over the hot water heater for smaller spaces and tighter applications.
Specifications
Trane TMM Series air handlers are built for specific needs and systems to provide you the most reliable comfort and efficiency, like only a Trane can.
The TMM Series air handler includes:
Painted galvanized steel cabinet
Copper-aluminum coil
Cooling and heat pump systems available